Product sales obsolete, integrated solutions and market segments is the way
Categories: Company news
Stars: 3Stars
Visit:

-
Release time: 2015-08-05 13:57:00
Contemporary Chinese security industry is facing a lot of confusion, security products on the market are mostly imitation, the real little independent investment research. Because there is no technical backing, so the product's life cycle is very short. However, there is no ability to upgrade and update, the company is difficult to become bigger and stronger, but in order to capture the market as soon as possible, blindly Qupin price, leading to market very confusing.
In this market environment, the Domenor on the one hand based on the accumulation of resources in the past with their own advantages, on the one hand to make a judgment based on market-oriented: either become a powerful hardware products suppliers, in particular areas of expertise to do fine and stronger, most of these products occupy the market space; or have a strong systems integration capabilities, helping customers to design and build a tailor-made security solutions. Domenor has its own R & D team, with independent intellectual property rights, its own technology, one can provide users with a more refined and customized products, one can make use of many years of market experience, to provide users with high-quality equipment and excellent system monitoring integrated solutions.
The market, more and more video surveillance applications tend HD display, mass data storage, multi-information fusion, information intelligence mining, intelligent analysis and decision making large-scale data, and other advanced technologies. In particular, safe city, smart city applications and large-scale cross-regional trade among these sectors in massive high-definition video data storage system demand for German Union pioneered the development of optical disk array to improve the traditional monitoring techniques facing group NetEase, shared storage is difficult and difficult problem. Domenor optical disk array, and a network of large-scale, high reliability, high security, ease of use, powerful business functions, management powerful, scalable, and easy centralized storage and retrieval functions, etc., for the user It brings a whole new experience.
Meanwhile, the Domenor of another product definition digital matrix is designed for network HD video and high-definition LCD screen splicing and the development of a professional product. Without the need for large-screen controller, through a "super HD Video Platform" to achieve ultra-high-definition 4K decoding display, window, Overlay, cross-screen roaming, PIP function! And supports other signal source access PC, meeting machine, HDMI / VGA, etc., for you to create a low-cost high-performance medium-sized networks LCD TV wall mosaic platform. German Union of Science and Technology also developed a Star-class camera, in the starlight environment without any auxiliary light, clear color images can be displayed.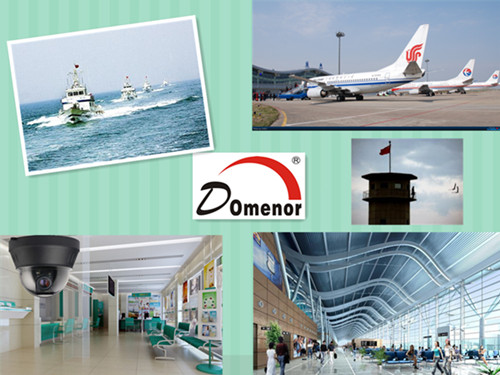 Domenor future in the security system works, will involve integration, storage, integrated wiring, computer networks and other aspects of large-screen display. Also, the entire weak systems, including fire, office automation, building automation and other direction near. Evolution of Domenor to contractors direction is accompanied by IT Security, network security, security integration, and now the tide of security intelligence trend is undoubtedly smart city, things, all kinds of mobile Internet with the impact of public pay , commercial, residential security needs, security needs of these cities has clearly and wisdom, intelligent community, intelligent home systems integration needs.
The future of video surveillance security products will not only products, system-level products will be the main direction of the future. The social security monitoring operations, information centers, big data, cloud computing closely linked. Domenor next decade will locate in position livelihood security industry investment, the product can personally relate to social security and people's happiness, and long-term benefits for the community. Over the years, the product has been Domenor for the overseas promotion, and to establish a long-term stable supply relationships with a number of countries, channels, and therefore, the future will continue to expand overseas to become Domenor-term growth momentum. At the same time Domenor will be based in China, actively shift from product development to system integration direction, and through in-depth development and management platform software, so that Domenor to become a company with Internet genes security company.